The local positioning , also known as local SEO, is gaining ground in the field of digital marketing. If you have a small business or an SME and your target audience is in the city or region in which you carry out your activity, working to improve local positioning is no longer an option.
It is normal that if you are starting with your website or you do not handle this very well, you do not know how to start. In fact, if you search for information on Google about how to position your business, almost all the information you find refers to global SEO. So, today I'm going to focus solely on local or local SEO .
To do this, I will start by explaining what local positioning is, what local SEO is for and I will give you 5 tips that will help you position yourself locally to give your business a little boost.
Are you ready? Come on, let's talk about local positioning then
Table of Contents:
What is local or local SEO positioning?
We can define local positioning as the set of techniques aimed at improving the visibility of a web page in search results based on the geographical location of users.
What is local SEO for?
When you have a business that you can hardly focus on a global audience, the ideal is to orient and optimize your business to the geographical area in which you carry out your activity. For this, there are certain local positioning techniques that allow you to optimize a website for searches related to the location of your business and your users.
I give you an example.
Imagine you have a driving school in Oviedo. Surely your goal is not to reach people from Valencia, or Madrid. Your goal will be to reach the public in your city and gain visibility in searches about driving schools in Oviedo.
Let's see how it appears in Google when we do this type of search: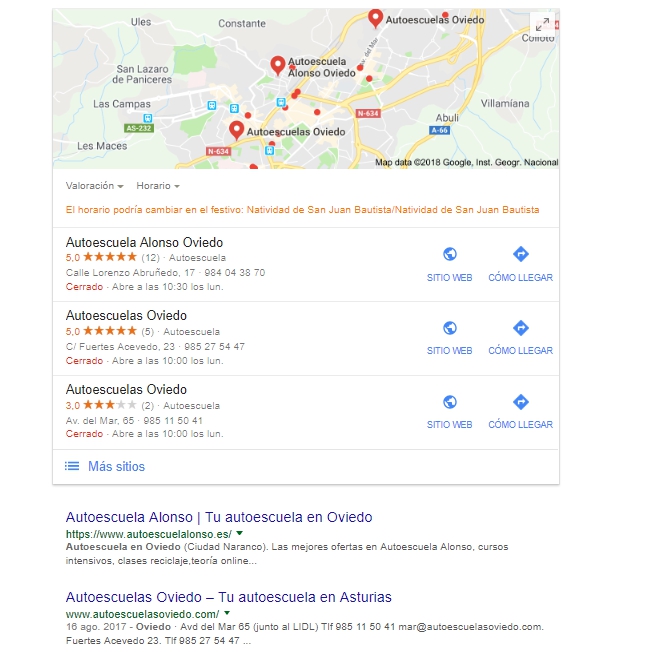 When we talk about local positioning, it is normal that one of the questions that comes to mind is … Is local SEO compatible with global SEO techniques? The answer is no and below I will detail why.
Local positioning vs global SEO
Not all web pages or online stores have to make improvements or perform techniques on their website that allow them to position themselves in one or another geographical location. For example, if you have an online perfume and makeup store, it does not make much sense to focus your online business on a single province or city, but you have to try to attract a much larger audience (for example, nationwide).
Of course, these global SEO techniques are not incompatible with the local positioning of your website, quite the opposite! It is important that your website complies with the basic principles of SEO so that it is also positioned locally.
Basic principles of SEO positioning
Loading speed: Regardless of whether you want to position your website in the Valencian Community, Galicia or Catalonia, loading times are essential to improve your visibility in search engines and your website is shown among the main search results.
Use a quality hosting: It is very important if you do not want to have problems with your website every two by three or slowness or load problems that may affect its operation, and of course, its positioning in Google. For example, for a basic website our SSD Hosting or WordPress Hosting plans are a good choice, although if you have a larger e-commerce or you have a dropshipping business you may need a more advanced service such as our elastic Hosting plans .
WPO or web optimization: A website optimized at the code level, loading times or using a good cache plugin will help you to better position your website not only globally, but Google will also value it if you want to position your website in the local market.
User experience: Having a website with good usability and at the same time that it is accessible is vital if you want your visits to have a positive experience, repeat on your website and convert. This Google values ​​it very positively.
Get quality backlinks: The same happens as in the previous cases. They are not only necessary if you want to position your website globally, Google will value in any case that other sites mention you, recommend you and include a link to your website.
These are just a few examples so you can see that global SEO is not incompatible with local positioning at all. What's more, when you want to position your website locally, your website also has to comply with the basic principles of SEO so that Google values ​​your page positively and shows it in the first positions of the results page.
5 tips to improve the local positioning of your website

Now that we know what local positioning is and that it is not incompatible at all with the most global SEO techniques, let's see how you can improve the local SEO of your website with these 5 tips:
1. Always use the same NAP
The acronym NAP stands for the acronym name, address and telephone (from English, name, address and phone ). These data regarding your company are not only on your website, but you can often find them in local directories, in your social media profiles or in your Google My Business account and it is important that they are consistent, that is, that you use the same name, address and phone number of your website on all platforms.
If a user wants to find the phone number or address of your business, but verifies that the same information is not displayed on your website and Google, what does he do? Most likely: they lose credibility in your business and turn to a competitive company that generates more trust. Also, Google spiders have become increasingly demanding, and they can penalize you for doing so.
As you can see, something as basic as maintaining the consistency of the information on your website will help you improve your brand image, show credibility and improve your visibility in search engines to attract more potential customers to your business.
2. Create and optimize your Google My Business account
Have you noticed that when we carry out a search locally on a certain business or establishment, the first results that Google shows are not links to web pages, but company files and a map showing all the locations?
Well, for your business to appear on Google Maps it is necessary to create an account in Google My Business, and you can do it for free.
You can add photos or videos of your business to capture the attention of your customers, the category by which you want to be found, a description that shows what you do and why they should visit you, the URL of your website … In short, Google My Business is a mini website (or a large client file) that allows you to improve your visibility and brand image, that is, your local positioning.
By the way! Do not forget to keep your business listing in Google always up to date . Any change you make in the NAP (name, address or telephone number), as well as any change in the opening hours or, even if you make a reform of your business, update your file with the new data or the new image.
3. Include the name of your province or town
If you are already clear that your audience is not national, but that the intention of your website is that people in your locality know you and visit your business, you have to tell the Google spiders where it is. That is, you have to add the name of your province or your locality in some sections of your website and in the content you create so that it can be interpreted and displayed correctly.
For example, if you have a bakery in Torrelodones, it is advisable to add the name of your town in one of these sections of your website:
Title. It is the main tag of your website and it is important that the location of your business is present here. For this reason alone, Google can now position your website when a user searches for information about a business like yours in Torrelodones.
The meta description: You have between 150-155 characters to add a short description of your page. Surely you are able to add your location here as well.
Headers (H1, H2, H3): We recommend adding it to the headers of your website as well. Of course, do not go crazy or try to add it in all sections, it will be unnatural and Google can interpret it negatively. For example, on the "Where we are" or "Contact" page you have it very easy. In addition, you can add the location to the URL of your website and it is always a plus.
Alt text and image title: As you know, it is very important to optimize images for SEO, and when it comes to local positioning, the same. Try adding the location of your business in the alt text and title.
4. Create related content
If you have a blog that you write regularly, you can also choose to create content locally . To do this, try to adapt your content marketing strategy to your target audience, that is, to your local audience.
Post content relevant to them or include current news from your region. It is a good option to include keywords that position you and you can improve your visibility. Also take the opportunity to publish this type of content on social networks . As it is more local content, followers in your area are more likely to share it, increasing visits to your blog.
5. Local directories too
When you do a search such as "pharmacy in the center of Cáceres", surely your first option is to go to the Google search engine and orient yourself by the information that it shows you based on your search and your geographical location. But when it comes to companies looking for suppliers or some type of collaboration with companies in the same sector, it is common for them to turn to local directories. These tend to filter the information by autonomous communities or provinces, so if your company is not there, you will be losing a good business opportunity.
Some of the most used local directories in Spain are: Yelp , Yellow Pages , QDQ , Axesor , Einforma and Espainfo , among others.
A recommendation: Even if you have not established your business data in any of these directories, it is possible that your company also has a file. Check that the NAP information is correct and, if not, request its revision. As we saw, it is essential that the information published is consistent and credible, both for Google and for your potential customers.
Recapping …
As we have just seen in this post, there are many online businesses that, in addition to optimizing the web to meet the basic principles of SEO, also need to apply local positioning techniques to address the public of a certain locality or geographic region.
Normally the web pages that carry out local positioning strategies are those that, in addition to having a physical business, want to attract new customers to their establishment. For example, a pharmacy, an optician's, a driving school or a language school are businesses that, as a general rule, only carry out their activity in their locality and need a good local positioning strategy for their business if they want to stand out from their competition.
If this is your case, in this post we have just seen some tips to improve the local or local SEO positioning of a website. So, put them into practice! It's the perfect time to give your business a little boost